Looking Back on 2015
As 2015 comes to a close it's easy to be thankful for the big moments of the year. A record number of summer kids campers (919!!!), more scholarship money given away than ever before (close to $40,000), over 400 summer campers saying they made first time commitments or recommitted their lives to Christ. But for me, as I reflect on 2015 the moments that stick out to me are the "small" moments. The times that seem to be coincidental, but looking back, God's finger prints were all over it.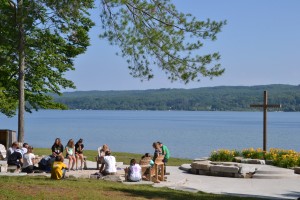 This year we changed how summer campers check in, with staff members using live Google docs to see their information. Because camp wifi can be somewhat unreliable, we always had a back up plan ready, but it always went according to plan. During a retreat, a youth group was unable to do the zip line because the line was so long. Instead the group, lead by their youth pastor, did some low ropes elements in the Back 40 and it was the highlight of their weekend. A first time Trailblazer camper, who came without any friends, was with a counselor that could care for him the exact way that the camper needed. A summer staff member made a connection with a camper, which lead him to a connection with that camper's youth pastor and now that staff member is helping with the church's youth group.
There are COUNTLESS moments, conversations, connections and details that we don't notice, but God has perfectly orchestrated.
As I look back at summer 2015, I am so thankful for the Portage Lake family; the campers, parents, donors, staff, board members and supporters that make this place what it is. And I PRAISE GOD for continue to protect and bless Portage Lake Covenant Bible Camp through the big moments and the small ones.
-Beth Piccard, Associate Director