Entering grades 7-9
When: (1) July 16-21, 2023 and (2) August 6-11, 2023
Where: Portage Lake Bible Camp
Cost: $450 by Dec. 31
$465 by Feb. 28
$480 by May 15
$495 after May 15
Speaker: JH1: Tony Moon JH2: Josh Hinken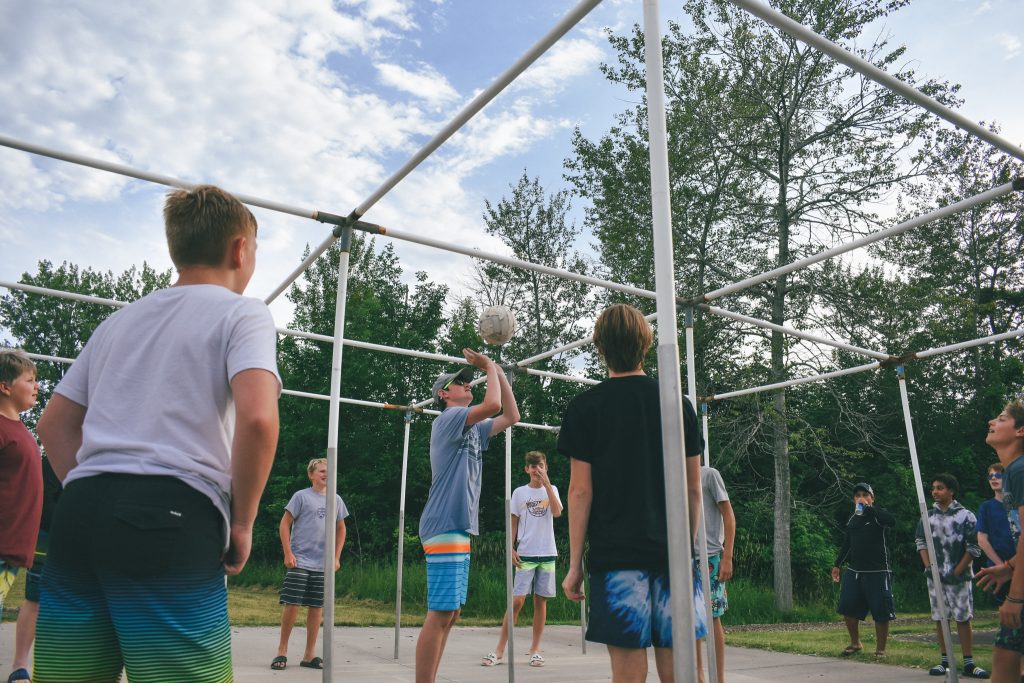 "It was the absolute best week of my summer and I never ever want to leave!"
-Vanessa
Junior High weeks are an unforgettable experience! Campers get to encounter everything camp has to offer from the high ropes course and giant swing to extra free time and awesome day-trip options. Chapel services are filled with incredible, energetic worship and life-changing messages. As always, Junior High camp is an unplugged week! With chapels and devotions, testimonies from staff members, and conversations, campers have the opportunity to learn more about Jesus and what it means to live a life following and experience Him.
What does a "typical" day at camp look like?
When
What
Description
8:00AM
WAKE UP IN CABINS
Time to start the day!
8:25AM
FIRST WORD BY THE LAKE
Short devotional as a whole camp
8:30AM
BREAKFAST
Campers & counselors eat together as a cabin
9:15AM
MORNING WATCH
Individual Bible reading/prayer time (each camper is given a guide)
9:45AM
CABIN CLEAN-UP
Each cabin takes time to tidy their cabin
10:00AM
MORNING CHAPEL
Worship & message from the speaker
11:30AM
MORNING ACTIVITY
Campers will be led in a safe & fun game or skill!
12:30PM
LUNCH
Campers & counselors eat together as a cabin
1:15PM
REST HOUR
Campers spend time relaxing and digesting in the cabin
2:30PM
FREE TIME
Waterfront, ropes elements, sports, crafts, and more!
5:30PM
DINNER
Campers & counselors eat together as a cabin
6:30PM
CHAPEL
Worship & message from the speaker
7:30PM
CANTEEN TIME
Snack shop open & fun cabin hangout time
8:15PM
EVENING PROGRAMMING
Campers will participate in an age-specific activity designed for their camp
10:15PM
CABIN REFLECTION
Wrap up the day talking about Jesus!
10:30PM
LIGHTS OUT
Time to sleep!
Will any of the big camp activities be dropped because of the change?
No! We make small adjustments to our schedule every year, but we plan to keep all of the camper favorites, such as ropes, experientials, Braveheart, and more
Will there be any pricing adjustments made?
Given the rising costs of food and the need to give our summer staff fair compensation, the only change will be slight increase in pricing.
Will you still have culmination at kids' camp on Friday?
Yes! Culmination will happen directly after pick-up at approx. 1:30p. It is a wonderful time of setting the stage for a ride home filled with telling stories.