Our full-time staff is here to serve you!
Dave Nesburg, Executive Director
Dave is from Apple Valley, Minnesota.  He is married to Kristen.  Their kids, Meghan, Jonathan and Lindsay have been raised at Portage Lake since 1995, when Dave began his job here.  Dave & Kristen also have two grandsons, Calvin and Levi, and a granddaughter, Millie! Dave is into competitive mountain bike racing, road cycling, skiing, soccer and just about anything else he can do outdoors.  He is a huge Vikings fan and although he cheers for all Minnesota teams, he has become a Red Wings hockey fan during his Michigan years.  Dave is blessed by watching the Holy Spirit work in the lives of youth and adults at camp.
Contact Dave at dnesburg@portagelake.org
Gage Flanery,  Associate Director
Gage was born in Arizona, but spent most of his life in Dearborn, Michigan. He graduated from Grand Canyon University with a degree in Sports Business Management, and he spent several years working for the Red Wings and the Tigers in various roles within their Operations departments. Gage and his wife, Kristin, met at Family Camp One and they fittingly got engaged at the beautiful lakeside amphitheater at Portage Lake. His goal is to help continue creating life long, Christ-centered memories for all who attend camp.
Contact Gage at gage@portagelake.org
Nick Loubert, Program Director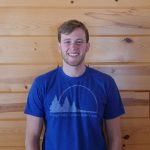 Nick is from Grand Rapids, Michigan. He grew up attending Thornapple Covenant Church and went to Forest Hills Central High School. He graduated from Hope College and is engaged to Caroline Coslow. Nick enjoy most competitive sports, although hockey is his favorite. A die hard Red Wings fan, Nick is also very into the TV show Survivor. Nick loves working at camp, and having the opportunity to work to grow and deepen the Kingdom.
Contact Nick at nick@portagelake.org
Luci Schweigert,  Marketing Director
After growing up in Grand Rapids, Michigan, Luci attended Calvin College where she studied Strategic Communications and French. Once she graduated in 2017, she worked on summer staff at camp for the first time. Luci recently married long-time camper and staff member, Devin. They love to go camping, watch movies, hang out with the local youth group, and eat breakfast foods. Her favorite thing about working at camp is living out the mission of PLCBC and showing Christ's love through acts of service.
Contact Luci at luci@portagelake.org
Sam Starks,  Advancement Director
Hailing from Stevensville, Michigan, Sam has attended camp since the age of 10. He graduated from Hope College in 2016 with a major in Business Management, and is currently studying for a Master's in Sports Administration from Northwestern University. Sam is thankful for the people he has met at camp and the relationships built over years of playing camper vs. staff games, playing Team Pictionary, and sitting around picnic tables with friends. He likes playing golf, running, investing in people around him, reading, and learning.
Contact Sam at sam@portagelake.org
Kathy Smith, Office Manager
Kathy has worked at camp since 2001.  She likes to say, "Every day is a beautiful day at Portage Lake, in every season and all kinds of weather!"  She was raised in Detroit suburbia and has enjoyed living in the Manistee area since 1987.  She is married to Craig. They have two sons, one lives in North Carolina and the other lives with his family in Seattle. Kathy likes art quilting, cooking, entertaining and reading.
Contact Kathy at ksmith@portagelake.org
Randy Bennetts, Facilities Manager
Randy started working at PLCBC in March 2014. He and his wife Pam (of 42 years!) live in Wellston and have 3 sons. Randy and Pam also have six grandkids. Before working at camp Randy owned a construction company for 25 years. Randy loves camping and is a deacon at Faith Covenant Church in Manistee. His favorite thing since he's starting working at camp has been being in a Godly atmosphere every day.
Amanda Harju-Mason, Head Cook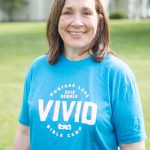 Born and raised in Kaleva, Michigan. Amanda has lived in northern Michigan her whole life, except for three years in Arizona.  She has a daughter, Naomi, who is 20. Amanda also works at KND Schools, where she has been an employee for almost 20 years.  Amanda enjoys fishing, reading, entertaining and of course cooking and baking.  Her favorite part of working at camp is serving God by serving others – taking away the everyday tasks of grocery shopping, planning meals, cooking and clean up – so they can completely focus on God and their families.