Our full-time staff is here to serve you!
Marc Eix, Executive Director
Marc is a Michigan native and in many ways is a native of camp. Growing up in Dearborn, he spent two weeks most every summer of his life attending camp at Portage Lake and worked on staff for two summers in the early '90s. Camp is the place he gave his life to Jesus, where he heard his call to ministry and where many of his major life decisions happened. Marc was ordained in the Covenant Church in 1999 and has served churches as a pastor in Chicago, IL, Manistee, MI, and most recently in Red Wing, MN. Marc and his wife Sarah have three children, Emily, Nathan, and Laura who all love to hike, camp, run, read, and be together. Marc is excited to return to a place that was so formational in his own life now with the opportunity to shape the lives of others through the ministry of camp.
Contact Marc at marc@portagelake.org
Eric Ek, Operations Director
Eric grew up as a pastor's kid in the Covenant church in a couple different churches and locations, but family camp at Portage Lake was a family constant growing up. He spent 9 summers over high school, college, and just post college as part of the staff before heading to North Park for seminary. Eric was ordained in the Covenant Church in 2016, and is excited to be back with some added life experiences under his belt having served in youth ministry in McMinnville (Oregon) and Farmington Hills (Michigan), and to lean into that business degree he got in undergrad from North Park. While at camp, you will likely run into Eric at some point walking with his wife (Erica), new baby (Britta), and possibly the dog (Pippi).
Contact Eric at eric@portagelake.org
Kirstin Crawford, Program Director
Although originally from Indiana, Kirstin has lived in the Northwoods of Wisconsin and Northern California the last few years before moving to Michigan at the end of 2021. She has been involved in camp ministry and student development since 2015 and has a B.A. in Psychology from Anderson University (IN) and M.A. in Outdoor Adventure Leadership from Wheaton College (IL). Kirstin is passionate about developing and discipling young leaders through experiential learning, community development, and team collaboration and loves the ways the outdoors and the camp environment creates space for individuals and groups to grow in these areas and experience God in new ways. In her free time, you will likely find Kirstin outdoors – whether that be on a week-long backpacking trip or a just on a trail run with her dog, Bailey. Her favorite activities are all types of skiing, hiking mountains, rock climbing, biking, paddling, and swimming, as well as playing/writing music and reading non-fiction books.
Contact Kirstin at kirstin@portagelake.org
Kathy Smith, Office Manager
Kathy has worked at camp since 2001.  She likes to say, "Every day is a beautiful day at Portage Lake, in every season and all kinds of weather!"  She was raised in Detroit suburbia and has enjoyed living in the Manistee area since 1987.  She is married to Craig. They have two sons, one lives in North Carolina and the other lives with his family in Seattle. Kathy likes art, quilting, cooking, entertaining, and reading.
Contact Kathy at ksmith@portagelake.org
Randy Bennetts, Facilities Manager
Randy started working at PLCBC in March 2014. He and his wife Pam have three sons and six grandkids. Before working at camp Randy owned a construction company for 25 years. Randy loves camping and spending time with his family. His favorite thing since he's starting working at camp has been being in a Godly atmosphere every day.
Contact Randy at randy@portagelake.org
Patti Church, Food Service Manager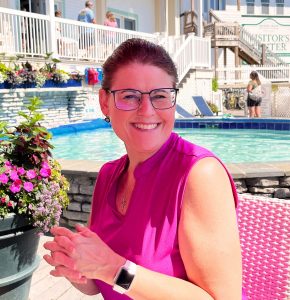 Bio coming soon!
Contact Patti at patti@portagelake.org