Students Working In Ministry
When: SWIM Focus June: June 12-18, SWIM Session 2: July 2-16, SWIM Session 3: July 16-30, SWIM Focus August: July 31-August 6
Where: Portage Lake Bible Camp
Cost: $265 for SWIM Sessions 2 and 3
$135 for SWIM Focus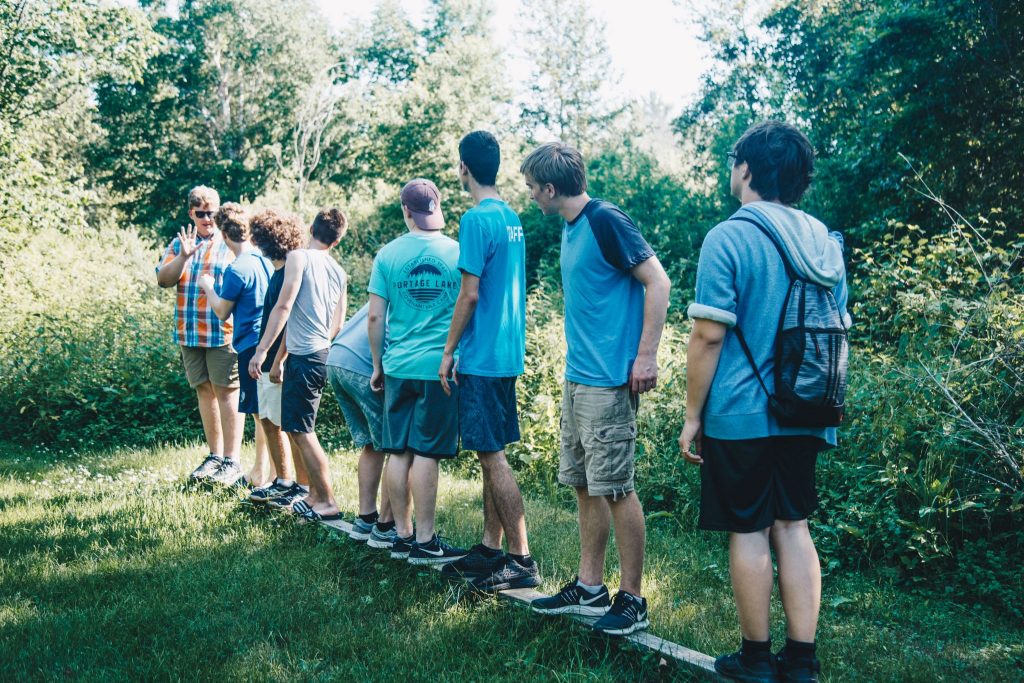 When is it?
SWIM Sessions 2 and 3 are two weeks long, and occur twice throughout the summer. These dates are  July 2-16 and July 16-30.
SWIM Focus Sessions are week-long sessions that occur twice throughout the summer. SWIM Focus sessions allow participants to serve in a more specific area of camp (see additional information below). These dates are June 12-18 and July 31-August 6.
Who is it for?
Students entering grades 10, 11, 12, and graduated high school seniors who love camp, love Jesus, and are passionate to learn about leading in a service capacity this summer!
What is it?
Students Working in Ministry, or "S.W.I.M.", is a week to two week long discipleship and service program. Students will learn to grow as leaders with servant hearts, and learn about the mission behind the ministry of Portage Lake. Our S.W.I.M Team Directors, along with our entire staff, will serve and walk alongside you for a week as you grow and develop the gifts the Lord has given you.
Why do it?
S.W.I.M. Team is an awesome opportunity to grow as leaders and serve in a ministry setting. There is so much going on every day, and being a part of that is not only super fun, but helps create incredible experiences for you and the campers. It also is an experience that gives high school students a taste of what being on summer staff is like! If you love camp and are looking for a chance to grow, sign up for S.W.I.M. Team! If you have more questions, feel free to call camp at (231) 889-5911.
SWIM Focus!
SWIM Focus allows SWIM team members to learn and serve in a more specific area of camp. A SWIM Focus will be chosen upon application and acceptance into the program. A focus can be either as an Assistant Counselor or SWIM Support Staff. Assistant Counselors will be with a cabin group for the week and learn from and serve alongside a counselor in caring for campers. SWIM Support Staffers can choose to focus on one aspect of camp, such as kitchen, maintenance, or another area of interest. During SWIM Focus sessions, there is room for up to to 10 Assistant Counselors and 5 male and five female spots for SWIM Support Staffers.
When is it?
SWIM Focus June*: June 12-18 / Trailblazer 1
SWIM 2***: July 2-July 16 / Family Camp 2 and Junior High 1
SWIM 3***: July 16-July 30 / Family Camp 3 and Junior High 2
SWIM Focus August*: July 31-August 6 / Trailblazer 2
*Students are encouraged to register for both sessions if desired. Students that register for both sessions are highly encouraged to do a week of each focus program.
*** SWIM 2, and 3 are similar to our traditional SWIM team experience. Each student will come to camp for two weeks and serve in a variety of roles varying from camp ground maintenance to counselor support. During the application process, students applying for SWIM 2 and 3 can request to participate in SWIM focus during their session if interested.
Click here for reference form!
Click here to register ONCE ACCEPTED! (must apply and be accepted first before registration)