Campers helping campers experience Portage Lake!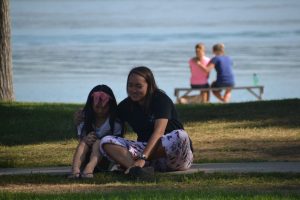 At Portage Lake Bible Camp, money is never a reason that somebody cannot come to camp. We are so thankful to all the donations that allow our scholarship fund to support people who love Portage Lake! Last year, over $40,000 was given out in scholarships, and we want to continue to help others get to camp. Camper2Camper is way for your camper to bless kids just like them with the experience of Portage Lake! Ask your child today if this is something they would like to be a part of! Here's how it works:
Campers can collect spare change (soup can tops and labels coming soon to make their own Camper2Camper bank!)
When their bank is full, the money can be mailed to Portage Lake, or donated online!

Parents, feel free to write a check to camp in lieu of mailing tons of change!
Change can also be brought in person when campers come to camp or when PLCBC visits churches!
The power of camp is life-changing, so please consider talking to you child today about collecting money for Camper2Camper and help Portage Lake continue to be a camp where EVERY life is truly impacted for Jesus Christ.
*Online gifts can be one-time or monthly