Entering grades 10-12 (and 2021 Graduates!*)
When: June 20-26, 2021
Where: Portage Lake Bible Camp
Cost: $425 by Jan. 15
$455 by May 15
$470 after May 15
Speaker: Sam Randall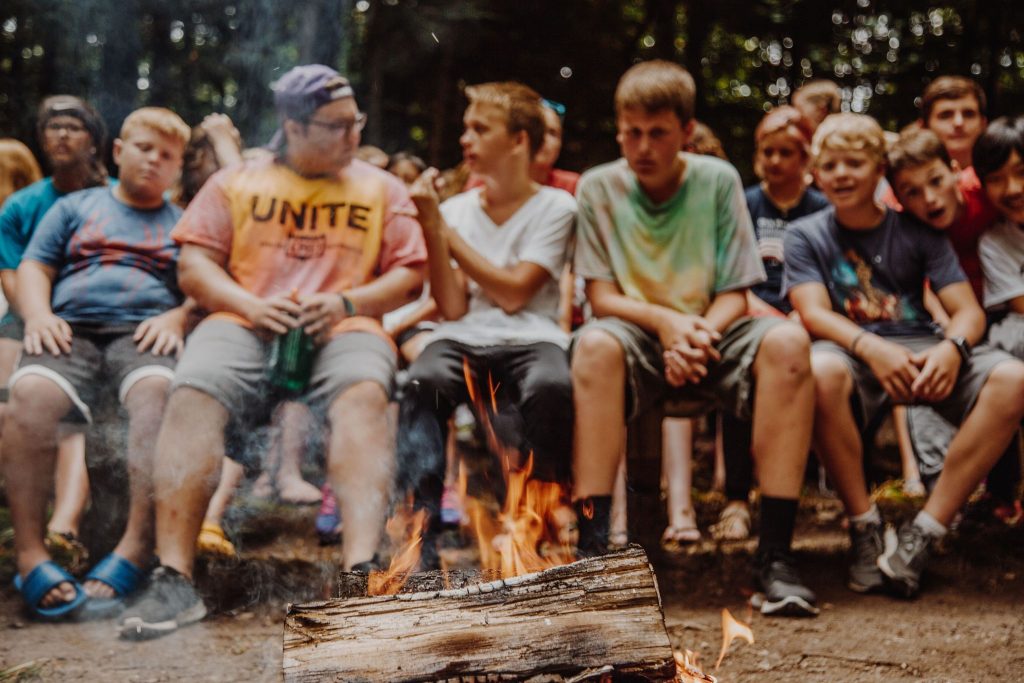 At this time, we are planning on hosting campers and families for Summer 2021. Please be flexible and stay tuned as we will be acting in accordance with government and CDC regulations. Pray that we can have an amazing summer!
The best week of the summer!
Sr. High camp is a camp experience unlike any other. Campers experience a community centered on the love and joy of Jesus, and get to take meaningful steps in their faith through powerful worship, relevant messages, and lots of unplugged time engaged with the camp community. Through awesome group games, tons of time to hang, swimming, ropes activities, and everything else PLCBC has to offer, Sr. High is a can't-miss week! There's only one session so make sure you sign up fast!
*In 2021, we are allowing 2021 high school graduates to attend Senior High camp. We missed you last summer, and want you to have an amazing last Portage Lake youth camp!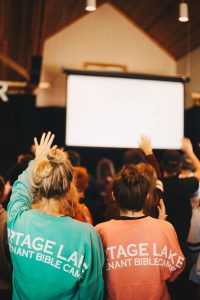 "God taught me that love is all around me. I don't have to search for love, I just have to embrace it. I'm always loved no matter what."
-Wes, Sr. High Camper
A Note Regarding Camp Numbers:
This summer, our capacity for each kids camp has been lowered to 140** campers per week. This number is set based on recommendations from the CDC and the ACA (American Camp Association), also taking into account the spaces and staff we will have available. That being said, we recommend that you register your camper(s) SOON to make sure you reserve your spot!
**This number may change as guidelines and restrictions develop in the coming months.
Summer 2021 Frequently Asked Questions
Given the health concerns of Covid-19, is it safe to send my child to camp?
Yes! Portage Lake Bible Camp's top priority has always been the overall safety of your camper! As we did throughout this past summer, we will be in close contact with local health workers and closely follow local and state guidelines. We will have multiple practices in place to mitigate the risks and keep campers safe.
What is Portage Lake doing to keep their staff and campers safe?
We are planning for regular summer gatherings with a few adjustments. For our youth camps – Pathfinders, Trailblazers, Junior High, and Senior High camps – we are currently planning to hold camps at a lower capacity and with additional safety precautions in place.
Consistent with CDC (Center for Disease Control) and ACA (American Camping Association) guidelines, at this point we plan to cohort our cabin groups and have multiple NPIs (Nonpharmaceutical Interventions) in place. Per CDC/ACA recommendations and Portage Lake policy, in order to attend camp each camper is going to be asked to self quarantine before arrival as well as monitor and track and record their temperature and symptoms 14 days leading up to camp.
Masks will be required in compliance with health department guidelines. While COVID-19 symptoms may be more mild in younger children, we still want to mitigate risks as we are able.
We will take the same measure with our staff as well. Staff are going to be asked to self quarantine and monitor their temperatures and symptoms prior to their arrival here. At this point, they will only be tested in response to symptoms.
Will you contact me if my child gets sick or is a close contact to someone who tests positive for COVID-19?
Yes, and we will strive to do so in a timely manner. As in summers past, when you register your camper, we require parent and emergency contact information in the event we need to contact you about your child. We will have a nurse on site each week, and we will contact you in regard to your campers health as is deemed appropriate by our staff.
How will campers have fun and participate in games and activities while following COVID-19 safe guidelines?
Camp fun will likely look a tad bit different this summer! We are exploring more cabin-centric activity options. This means that campers will spend time almost exclusively within their cohorted cabin in order to limit contact to those they bunk with. We will also have some of the large camp games that campers have come to know and love.
What about cabins?
Most of our cabin accommodations have ample space and allow for our bunks to be spread out. This summer, we are planning to house campers only in cabin spaces in which their cohort will share one bathroom, rather than a communal bathroom with multiple groups. Each week, counselors will cohort with their cabin of about nine other campers.
Will my child be required to wear a mask at all times?
We will likely require masks in the dining hall, chapel, gym, and any other spaces in which 6 feet social distancing cannot be met. Mask wearing inside cabins and within cohorts is not required. These guidelines may change as the local and state regulations change, but at this time we are following guidance from our licensing organizations.
Does my child need to quarantine/be tested/vaccinated before they arrive at camp?
We will not require a test or a vaccine prior to arrival at camp this summer. For the safety of all participants and our staff, we are going to ask that to the best of your ability your child quarantines for two weeks prior to their arrival upon camp. Along with temperature and symptom monitoring, this will help mitigate the potential presence of sickness.
Why so many guidelines?
As an organization and as Christians, we believe this is the best way to love our neighbor and the greater community. Portage Lake has been serving families and kids for 75 years! We have been entrusted with a special gift, and the best way to steward that is to follow all safety guidelines and recommendations to the best of our ability, and to the extent that we are mandated to do so by our operation license from the State of MI and insurance guidelines.
My question wasn't answered! How do I get more information?
We continue working towards the safest way to bring your kids a rich camp experience. With the ever changing landscape of information, regulations, and access to COVID solutions, we acknowledge that we do not have all of the answers at this point. But, if there are any further questions you may have, please do not hesitate to reach out to us. The two best ways to contact Portage Lake is by calling our office at (231) 889-5911 or email us at info@portagelake.org