Whether this is the first or tenth time your child is attending Portage Lake, we want you to know that we will do everything we can to make sure your camper is safe and cared for.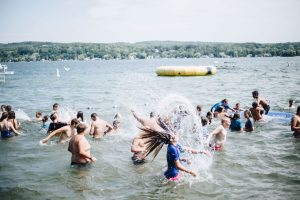 Portage Lake is a community that invests in the lives of children and families. We believe that our unique camp environment is an ideal setting for a child to experience Christ-centered living. We emphasize that each child is valued solely because they are made in the image of God, and not for their physical attributes or athletic abilities. It is our desire that each camper would not only see that they are valued and loved, but that they would experience it through activities, fellowship and fun! Our hope is that Portage Lake will become an uplifting and integral part of your child's development and spiritual growth.

Tiered discounts:
Register by January 15 or May 15 to save on summer camp! Visit each page to learn more about tiered pricing at PLCBC.
Food Allergies & Dietary Restrictions
Portage Lake is NOT a peanut free facility. Our cooks are used to catering to individual needs and do our best to accommodate all allergies, however some allergies, especially the more unusual ones, we are not always able to fully accommodate a guest or camper. We do strive to accommodate all camper needs, but if your child has extreme food allergies, please call the PLCBC office at (231)889-5911. PLCBC will make different food for allergies or dietary restrictions, but not for pickiness. Peanut butter and jelly is available at every meal.
About the Summer Staff:
Here at Portage Lake we take great care in hiring our staff. Your child's experience is highly dependent on the quality of our staff. All staff members are hired because of their spiritual maturity and personal integrity. The young men and women who work here are truly dedicated to being positive Christian role models for your son or daughter. (They are also a lot of fun!) All staff members are certified in First Aid and CPR certified. To learn more about our staff click here!
Safety:
Safety is our number one priority. All camp facilities and activities are inspected and regulated annually by the State of Michigan. (See information about medical care, policy on bullying and swimming below.)
All waterfront staff are lifeguard certified. All ropes equipment (including carabiners, harnesses, ropes and cables) is inspected annually by Experiential Systems. The summer ropes staff, as well as all full time staff are certified through Experiential Systems on all high adventure elements.
Arrival & Departure:
Check in begins at 3:30 pm in the gym on arrival day on Sunday. On the last day of camp, please arrive between 9:00 am and 10:00 am for departure (Saturday for most camps, Tuesday for Pathfinders), to sign sign your child out. There is a short closing rally at 9:30 am on closing day. This is a time for you to hear and see what your child has been learning and doing at camp. We will also show an end-of-week slideshow and video, so you will get a sneak-peak into your camper's experience.
Swimming at PLCBC:
We take the waterfront very seriously. Every camper takes a swim test on the first day of camp. (Except Pathfinders, who go in the lake, but not for open swimming.) Cabin groups test together. Each camper swims out and across the deep end and then treads water for 2 minutes. Four lifeguards are in the water with the groups while the waterfront director watches from the raft. If a camper cannot swim the entire distance or complete the treading, they are allowed to swim in the deep end while wearing a life jacket and with a staff member.
Scholarships:
Scholarships are available. Portage Lake Covenant Bible Camp believes every kid should be a camper! Every year we get more requests for scholarships, so we ask that you pay as much of your camper's fee as possible. To get a scholarship application, simply call camp at (231)889-5911 and talk to our office manager Kathy. To learn more about donating to the scholarship fund, click here!
Camp Nurse:
Each week there is a Registered Nurse on site at Portage Lake. At registration, parents must must turn in all prescription medications to the nurse. There is no need to bring any over-the-counter medications (Tylenol, Advil, Benadryl, etc.), the nurses station is well stocked to meet any aliments your camper may have. Emergency rescue medication like inhalers or Epi-pens may be kept with the camper, but all other medicine (prescription or non) must be checked in with the nurse.
PLCBC Policy on Bullying:
Portage Lake is designed to provide outreach programs, challenges and opportunities for kids to be encouraged while learning about Jesus Christ. For this to be successful, kids need to feel safe. This means bullying is unacceptable. The way kids treat each other at camp can make or break a camper's week. We give rules and expectations to kids as they arrive. Our staff is trained in handling discipline and bullying so that every camper is safe physically, emotionally and spiritually.
 Have more questions?
If you have any additional questions or concerns, check out our resource for First-time parents! You can always call (231) 889-5911 as well. Thanks!
Summer 2021 Frequently Asked Questions
Given the health concerns of COVID-19, is it safe to send my child to camp?
Yes! Portage Lake Bible Camp's top priority has always been the overall safety of your camper! As we did throughout this past summer, we will be in close contact with local health workers and closely follow local and state guidelines.
What is Portage Lake doing to keep their staff and campers safe?
We are planning for regular summer gatherings with a few adjustments. For our youth camps – Pathfinders, Trailblazers, Junior High, and Senior High camps – we are currently planning to hold camps at a lower capacity and with additional safety precautions in place. We will perform temperature checks upon arrival, as well as ask parents to log their camper's temperature and symptoms for two weeks prior to check in. We will isolate campers and staff who may become sick or develop symptoms and administer rapid COVID tests on site with parent permission. Meals are served in two meal groups to prevent overcrowding in the Dining Hall, and we have a registered nurse on site during our kids camps.
Will you contact me if my child gets sick or is a close contact to someone who tests positive for COVID-19?
Yes, and we will strive to do so in a timely manner. As in summers past, when you register your camper, we require parent and emergency contact information in the event we need to contact you about your child. We will have a nurse on site each week, and we will contact you in regard to your campers health as is deemed appropriate by our staff.
How will campers have fun and participate in games and activities while following COVID-19 safe guidelines?
We will enjoy big games, the waterfront, ropes activities, crafts, sports, and more! Most of these activities take place outside with the exception of indoor ropes, arts & crafts (which has an open garage door), and sports and games in the Gym. Indoor activities typically only happen when there is inclement weather.
What about cabins? 
Campers will only be in their cabins when they're sleeping, during rest hour, and during cabin clean up in the morning. They will spend most of their time outside!
Will my child be required to wear a mask?
We are following the guidelines from our licensing organizations, LARA and ACA. At this time, campers will not be required to wear a mask at any time. We will adjust this requirement accordingly based on regulations given to us LARA and ACA. If a camper prefers to wear a mask at any point, they are welcome to do so!
Does my child need to quarantine/be tested/vaccinated before they arrive at camp?
We will not require a test or a vaccine prior to arrival at camp this summer. For the safety of all participants and our staff, we are going to ask that to the best of your ability your child quarantines for two weeks prior to their arrival upon camp. Along with temperature and symptom monitoring, this will help mitigate the potential presence of sickness.
My question wasn't answered! How do I get more information?
We continue working towards the safest way to bring your kids a rich camp experience. With the ever changing landscape of information, regulations, and access to COVID solutions, we acknowledge that we do not have all of the answers at this point. But, if there are any further questions you may have, please do not hesitate to reach out to us. The two best ways to contact Portage Lake is by calling our office at (231) 889-5911 or email us at info@portagelake.org
What to Pack:
Below is a rough packing list. Clothing needs vary with weather. Northern MI is typically warm during the day and cool at night.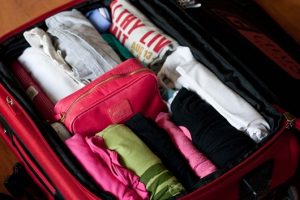 – 7 t-shirts
– 3 pairs of shorts
– 2 pairs of jeans
– 2 sweatshirts
– raincoat
– 2 pairs of closed toed shoes (sneakers for games, climbing, etc.)
– socks
– undies
– flips flops/shower shoes
– modest swimwear (girls must wear a one piece)
– bath towel
– beach towel
– sleeping bag (cabins may sleep at "out camp" and need a sleeping bag, not just sheets and blankets)
– pillow
– flashlight
– bug spray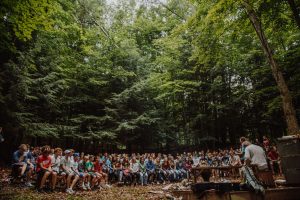 – sunscreen
– shampoo
– soap
– toothbrush
– toothpaste
– Bible
– notebook
– pen/pencil
– clothes & shoes to get messy/muddy
– water bottle
– camera
What NOT to Pack:
NO ELECTRONICS! If iPods, video games, cell phones, etc. are brought they will be confiscated for the week. No valuables-meaning anything you are not willing to have damaged or lost. No cash – all money should be put on a Canteen Cash Card. No bicycles or "hover boards".
Camper Mail:
We will have mail baskets for each cabin set up on registration day in the gym. Write intended delivery day on each piece along with the camper's name. Mail is delivered Monday-Friday. (Delivered all three days for Pathfinders.) You can also send mail to your camper. Please be sure to put your camper's first and last name on any letter or package. Send mail to:
4158 Camp Delight Rd.
Onekama, MI 49675.
You can also send digital mail throughout the week that we will print and deliver to your camper! Click here to send.