Welcome to the PLCBC App!
PLCBC has joined the club! Our good friends at Avalanche Creative have built an incredible app that we hope will help you stay connected and involved with the ministry of Portage Lake! Camp is so much more than just a place, it's a community build on the love of Christ, and we hope this new resource can play a role in bringing that community even closer together all throughout the year. Read below some of the features you can find when you get the PLCBC app!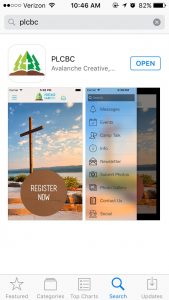 Downloading the App
First of all, you'll need to find it! You can enter "PLCBC" in the search bar at the iOS or Android App stores, and look for the PLCBC logo! The app works on iOS and Android devices, including tablets! You can also click below to find it for iOS:
Click here access the PLCBC App!
Messages
Probably the most useful feature of the app is the "Messages" aspect. Messages are notifications, but the great thing about this feature is that you are able to control how many, and what type, of messages your receive! We want to do everything we can to stay connected with the PLCBC family, and these notifications are a great way for camp news, information on various camps, and more to be sent right to your phone or tablet. To filter which types of messages you want to receive through the app, follow the steps pictured below. Open up messages in the top right corner of the home screen, read new and old messages, and click the settings wheel to select which types of messages you wish to receive! The goal of these messages is not to overwhelm you with annoying notifications, but to let you know what is going on at Portage Lake, to let you know of certain offers that can benefit you and your family, and ultimately to keep you in the loop as an important member of the camp family!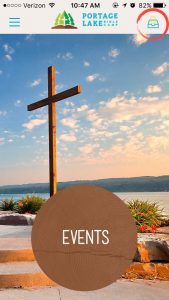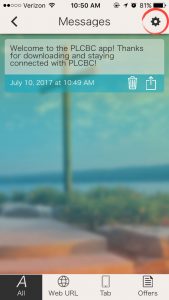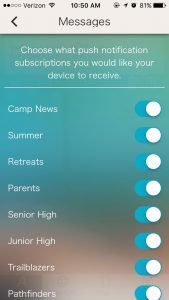 The Menu
The menu (found in the top right corner of the home screen) has a bunch of awesome features. There is an "Events" option that has all upcoming events and details, an opportunity to view or submit photos, and access to giving, the blog, and your account in PLCBC's registration system. There is even a feature called "Camp Chat" where you can post and talk to others if you have any questions or just want to say hello! It is our hope that this section of the app will allow you to connect to the things you need right from your phone.
Have fun!
We hope that this new resource will help you, your family, and your friends stay in the loop with camp no matter where you are! The Portage Lake community is a vital tool in God's Kingdom, and it is our hope and prayer that this will help bring our amazing family even closer together throughout the year. Let us know what you think and rate the app in the app store! We can't wait to continue to serve you and come up with new ways to keep in touch!
Click here access the PLCBC App!