Welcome to DIY Camp!
What is it?
DIY Camp is an at home camp experience! We're bringing the REAL fun and REAL faith of Portage Lake Bible Camp to you! Each week will be catered to a different camp session, but feel free to participate in any/all of the activities! There will be fun, daily videos, challenges, crafts, recipes, and chapel sessions featuring some awesome speakers. Oh, and of course there are Portage Points! There are lots of ways to earn Portage Points, and there are some pretty sweet prizes for reaching different tiers! (See below for details!)
When is it?
Here's the DIY Camp Summer Schedule:
Trailblazer 1: June 15-19
Senior High: June 22-26
Family Camp 1: June 29-July 3
Family Camp 2: July 6-10
Junior High 1: July 13-17
Family Camp 3: July 20-24
Junior High 2: July 27-31
Trailblazer 2: August 3-7
Pathfinder: August 10-14
How do I participate?
Check our social media accounts daily for new content! We will be posting Monday – Friday. Check out the tabs below for more information on the daily themes, Portage Points, prizes, and FAQs!
Please send all entries in an email to madison@portagelake.org with your DIY camp activity in the subject line, with the names of all competitors in the body, along with your picture.
Daily Themes for DIY Camp
Monday: DIY Camp Recipes you can make at home and share with family and friends!
Tuesday: Fun and goofy video content for your enjoyment!
Wednesday: Games and Challenges you can try at home to earn Portage Points!
Thursday: DIY Craft that you can make on the kitchen table!
Friday: Chapel and Devotion time, featuring sermons from awesome speakers!
Devotional Packets for Each Session
Each link will direct you to a PDF document that you can print!
This Week: Family Camp 2!
Check out what we do each day! Click here to head to our social media pages for fun content!
Monday: DIY Recipe
Chocolate Chip Cream Cheese Bars!
Crust:
2 cups flour
1/2 tsp baking soda
1/2 tsp salt
2/3 cup softened butter
1/2 cup sugar
2/3 cup brown sugar
1 egg
2 tsp vanilla
2 cups chocolat chips
Filling:
8 oz softened cream cheese
1/2 cup sugar
1 egg
1 tsp vanilla
1. Preheat oven to 350.
2. Line a 9×9 square baking pan with parchment paper and spray with nonstick spray.
3. Whisk together flour, baking soda, and salt.
4. Cream together butter, brown sugar, and sugar until fluffy.
5. Add egg and vanilla and whip to incorporate.
6. Add flour mixture and mix until incorporated.
7. Fold in chocolate chips.
8. Press 2/3 of the mixture into the bottom of the prepared pan to form an even layer.
9. Combine filling ingredients and beat until blended.
10. Spread filling over the cookie dough layer and level.
11. Crumble remaining crust dough over the filling layer.
12. Bake for 30 minutes, or until cheesecake is set and cookie dough has browned.
13. Allow to cool completely and chill before slicing. Enjoy!
Wednesday: Activity/Challenge
Play Empire & Mafia!
How to Play EMPIRE
Gather family/friends, writing utensils and pieces of scrap paper
Each player writes down the name of a character or famous person (could be anyone from Spongebob to Wonder Women to Jerry Seinfield and everyone in between)
One designated person reads all of the names twice through, and then the paper gets put away. The names of the characters need to be remembered for the duration of the game (this is the hard part!)
Players take turns guessing who wrote what character. If you guess someone right, they become a part of your empire.
When you ask, if you guess correctly you gain a person to your empire and guess again. When you guess incorrectly, it is now the turn of the person that you guessed to try to gain more members of their empire!
When a player gets their character guessed, they gain that player and anyone else that is already a part of that player's empire.
Once one person has all players on their empire, they win!
How to play MAFIA
One person narrates the game. This person has everyone close their eyes and designates a mafia, a detective, and a doctor without all knowing (game can be played without a detective if not enough players are present) everyone else is a townsperson.
Subsequently, the narrator wakes up each role individually to ask who they want to select. The mafia chooses one person to kill, the detective suspects someone, and the doctor gets to save someone's life.
At the end of the round, the narrator tells an elaborate story about what happened during the night.
One variation of the game allows the townspeople to vote to put one person in jail. If this version is to be played, two people get accused and give alibis as to why it couldn't have been them. Then the townspeople vote, and whoever gets the most votes gets put in jail, and is no longer in the game. This version creates a much shorter game, and is more difficult to play with a smaller group.
Rounds are continued to play until the game ends. The game is over when either the mafia or the townspeople win. Mafia wins if they kill everyone without being discovered, and the townspeople win when the mafia is caught!
An example of a round of the game might go something like this:
I am the narrator, and am playing mafia with Luci, Gage, Macey, Marc, Kathy, Randy, Amanda, and Elliora.
I have everyone close their eyes, and then announce that I will tap the mafia. I tap Macey on the head. Then I do the same with the detective and the doctor, tapping Amanda and Gage, respectively.
Elliora, Randy, Marc, Kathy, and Luci are now all townspeople.
The first round begins as I tell them all to stay 'asleep' I ask the mafia to awake. When Macey opens her eyes, I ask her "mafia, who do you want to kill" she points, I note it, and tell her to close her eyes.
Next I wake up the detective, ask the same but "who do you accuse?" and again with the doctor but "who do you want to save?"
Then, all townspeople can wake up. I begin my tale: last night was a tragic evening. Luci was walking through camp on her way to the dining hall, when she heard a loud noise coming from the chapel. She ran away frightened. Little did she know that behind the chapel, our mafia was attacking Marc! The doctor was distracted, in the infirmary trying to save Elliora, but she was fine– just a little fussy. The detective arrested Gage for being the mafia, but was let out because he was innocent!
Then the game continues, based on the selections of the mafia, doctor, and detectives.
If the doctor or detective gets killed by the mafia, the game continues without them (this usually just allows the mafia to win faster)
Rounds can be as quick or as fast as you desire them to be.
Thursday: DIY Craft
DIY Sidewalk Chalk
You will need:
Cornstarch
Water
Food coloring
Paint Brushes or sponges for application
Click here for the directions we followed!
Please send all entries in an email to madison@portagelake.org with your DIY camp activity in the subject line, with the names of all competitors in the body, along with your picture.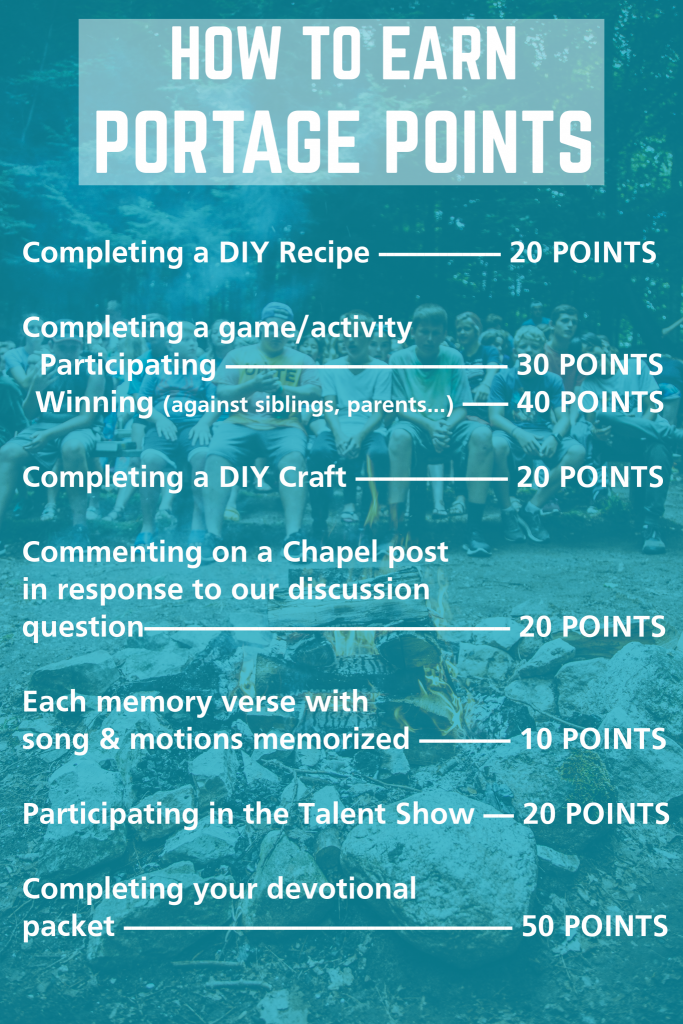 Please send all entries in an email to madison@portagelake.org with your DIY camp activity in the subject line, with the names of all competitors in the body, along with your picture.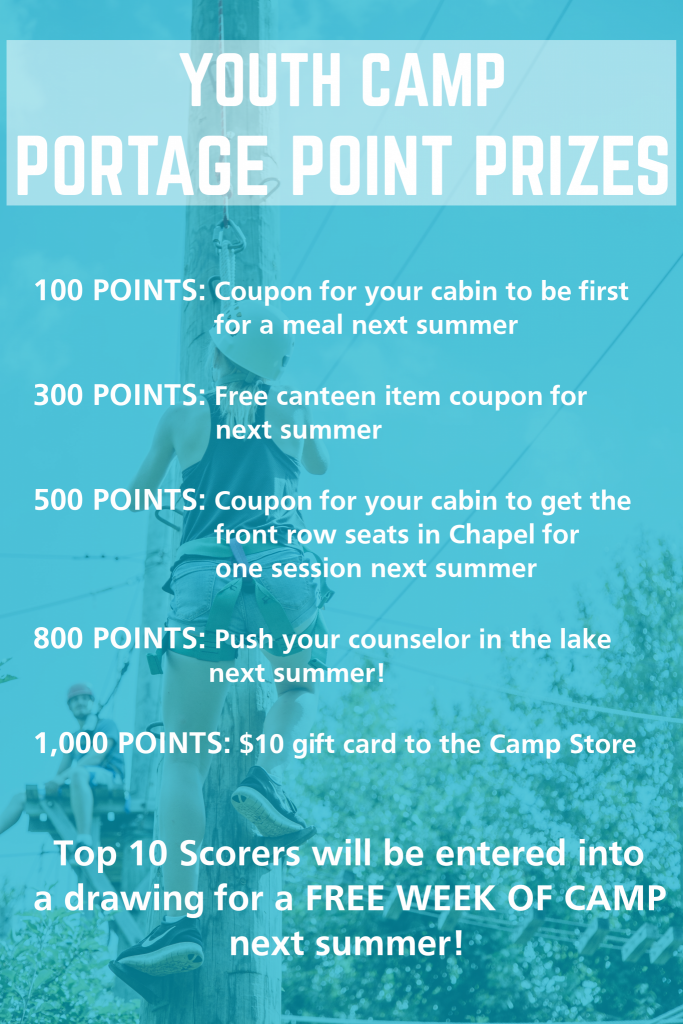 Please send all entries in an email to madison@portagelake.org with your DIY camp activity in the subject line, with the names of all competitors in the body, along with your picture!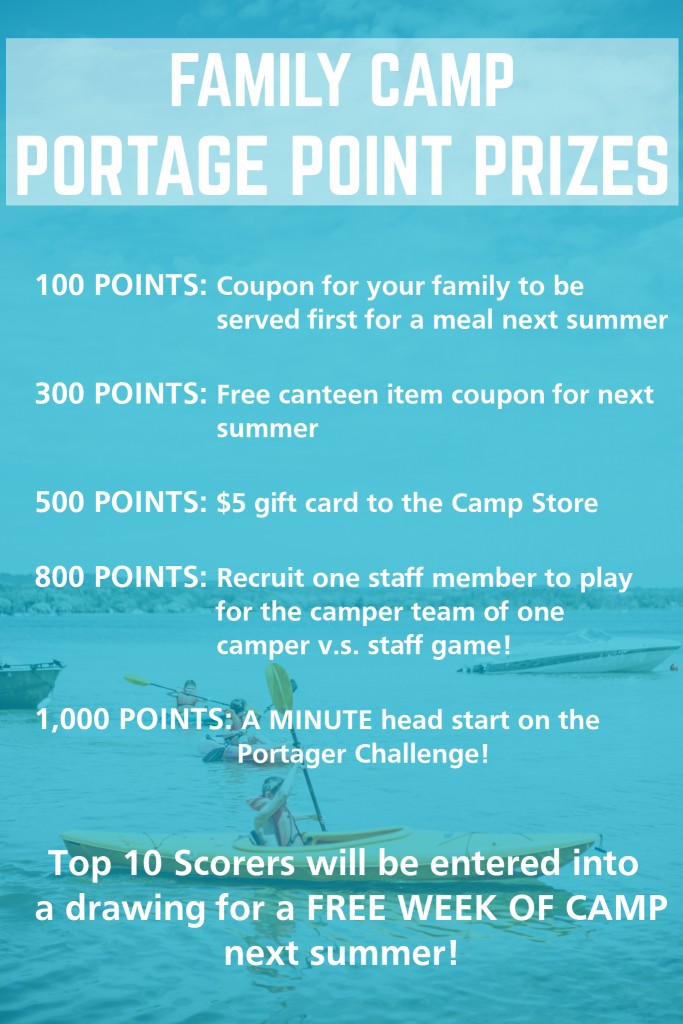 Sorry, but I'm still confused. What is DIY camp and why is Portage Lake doing it?
We completely understand that this is not 'normal' camp. But, since we are unable to have camp normally, we have built a version of camp that can be done from your very own home! We understand that it is not a full substitute for a week at camp, but we do hope you enjoy it.
As for what it is, DIY camp is simply camp activities and fun content that you can participate in even from afar! A typical week of DIY camp includes a camp recipe that you can do at home, a fun camp video, a Portage Points activity, a craft for you to do at home, and a virtual 'Chapel' experience. For Portage Lake, DIY camp is the best way to bring camp to you, since this summer we are unable to bring you to camp.
How much does DIY Camp cost?
The best part about DIY camp is that it comes with no registration fee. Yes, you read that correctly, DIY camp is FREE!
Each Saturday, we will release a list of supplies for the week that may require purchase, but since all DIY camp activities are optional, the expense is also completely optional. And, we are doing our best to make DIY camp activities able to be done with supplies that you would already have at home!
Even though DIY camp is free, camp has a limited revenue stream this summer due to our decision to cancel programmed camps. Instead of a fee for DIY camp, we would encourage you to donate to camp if you are able.
What are Portage Points and why do they matter?
Great question! Portage Points are your incentive for completing DIY camp. Instead of being able to compete in real time big games here at camp this summer, we are allowing you the opportunity to compete with each other at home through our Portage Points Competition. Even better, Portage Points can earn you special prizes!
How do you keep track of my Portage Points and how do I get my DIY camp activities to count towards my point total?
We are keeping track of points on two separate leaderboards that will be updated each Tuesday starting June 23rd. These leaderboards will be found on our website, and linked to our social media pages so you can check back often and keep track of your competition!
In order to receive points for your DIY camp activities, we ask that you send in a picture of your camper or your family along with your completed camp activity. Please send all entries in an email to madison@portagelake.org with your DIY camp activity in the subject line, with the names of all competitors in the body, along with your picture.
Can only my camper participate? Can my whole family participate? If I am a youth camper and a family camper, can I be on two leaderboards?
All are welcome to participate! Campers, please ask for your parents permission and supervision for DIY camp activities. While camps are geared towards youth or family camps specifically, any family can participate in any youth camp activities, and vice versa. Come one, come all for a socially distant summer of Portage Lake fun!
Yes, you can be on two leaderboards! If you usually attend any of our youth camps but also attend family camp with your family, you can enter twice. You can enter yourself individually as a youth camper, and you can participate with your family on the family camp leaderboard. If this is the case, when sending in your completed DIY camp activities, be sure to include all of your youth campers' names and along with your family's name so that the leaderboards accurately represent point values.
Why are specific weeks designated for specific camp sessions? Does this mean I can only participate in the week of camp that I was originally registered for?
Each week is oriented toward a specific age group, because we want DIY camp to reach all of Portage Lake campers with a camp experience this summer that provides them with real fun and real faith! Additionally, we wanted DIY camp to have structure and variety, to keep this summer fun and upbeat for all participants. While all can enjoy Uncle Jerry's songs and Bible stories, Trailblazers and Pathfinders will especially love to sing the Robot Song along with Elmer. We have themed the weeks accordingly to best serve and love all of our campers.
Not at all! In fact, we encourage you to participate in as much DIY camp as you want to! Additionally, the more DIY camp you participate in, the more Portage Points you can earn and the more prizes you will be awarded! For the first time in Portage Lake history, everyone is invited to all of the camp sessions! We hope you enjoy this special opportunity, and take advantage of all the fun that you will be able to have at home.
I still have more questions.
Please feel free to message us on Facebook or Instagram, or email our Interim Program Director, Madison, at madison@portagelake.org.