Dr. Jerry Umanos Bike Program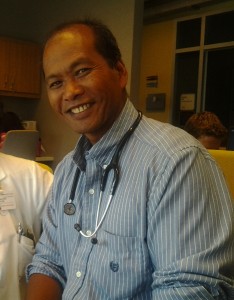 On April 24, 2014 while serving at a local hospital in Kabul, Afghanistan, Dr. Jerry Umanos was killed. Jerry was a long-time Portage Lake camper and staff member. He met his wife, Jan Schuitema at camp and their son Ben also served on staff for many years.
One of Jerry's favorite things was mountain biking. He was always ready to ride and was even known to "break" a few rookie riders. When Jerry would ride with our own Dave Nesburg he often shared how close he felt to God. Jerry loved the fellowship, exercise and the whole riding experience.
After Jerry's death, Jan and Ben thought starting a mountain bike program at camp was the perfect way to honor Jerry. Donations have already been received for Cannondale Bikes to give campers a top quality experience. During the Men's Retreat, the first group of riders (over 20 men!), took on the Arcadia trails.
Camp is honored to celebrate Dr. Jerry Umanos through this program and donations are still being accepted! Send contributions to camp and make a note to apply the gift to the Jerry Umanos Bike Program.