Portage Escapes
Portage Lake Bible Camp is providing a new and affordable retreat housing options for friends, family, and groups to come and stay, relax, unwind, and explore Northern Michigan. This is not what we've traditionally provided in our Retreat Season, but we know that this opportunity to get away can allow for God to work in and through this place.
Join us for a chance to step out of your daily routines and enjoy our beautiful facilities and the wonder of Creation. If you're working from home or taking classes online, why not do it in an incredible setting? Read below for more details on what's included and how to start your own Portage Escape.
Rates:
Starting at $75/night per cabin, $100/night in Speaker's Cabin
For groups of 15 or more, please give us a call for pricing and additional options!
Contact:
Email – info@portagelake.org
Phone – (231) 889-5911
WHAT'S INCLUDED:
Cabin Housing
Gym usage
Welcome Center meeting space
Private work/online school areas with WiFi
Private outdoor beach access
HOUSING
Portage Lake offers a variety of cabins with various set ups, locations, and accommodations including some with kitchenettes. Please click here to see all of our options if you have specific needs.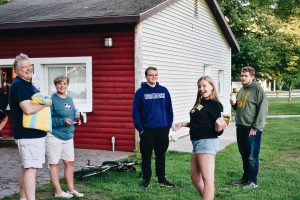 LOCATION
Portage Lake Bible Camp is located right on Portage Lake in the beautiful village of Onekama. We are just a short drive away from the downtown of Manistee, 30 minutes south of Crystal Mountain Resort & Spa, and drivable distance from Arcadia, Frankfort, Traverse City, Leland & Fishtown, and many other northern Michigan treasures.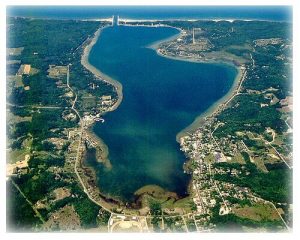 BOOKING
Start your retreat at Portage Lake Bible Camp with simply giving us a call or sending an email. From there, we will go over some additional details in regards to some rules, regulations, and confirming some general information of your stay.
Contact us at info@portagelake.org, or give our office a call at (231) 889-5911