Remembering Jerry Jacoby
"For God, who said, 'Let light shine out of darkness' has shone in our hearts to give the light of the knowledge of the glory of God in the face of Jesus. But we have this treasure in jars of clay, to show that the surpassing power belongs to God and not to us. We are afflicted in every way, but not crushed; perplexed, but not driven to despair … always carrying in the body the death of Jesus, so that the life of Jesus may also be manifested in our bodies." (2 Cor. 4:6-10)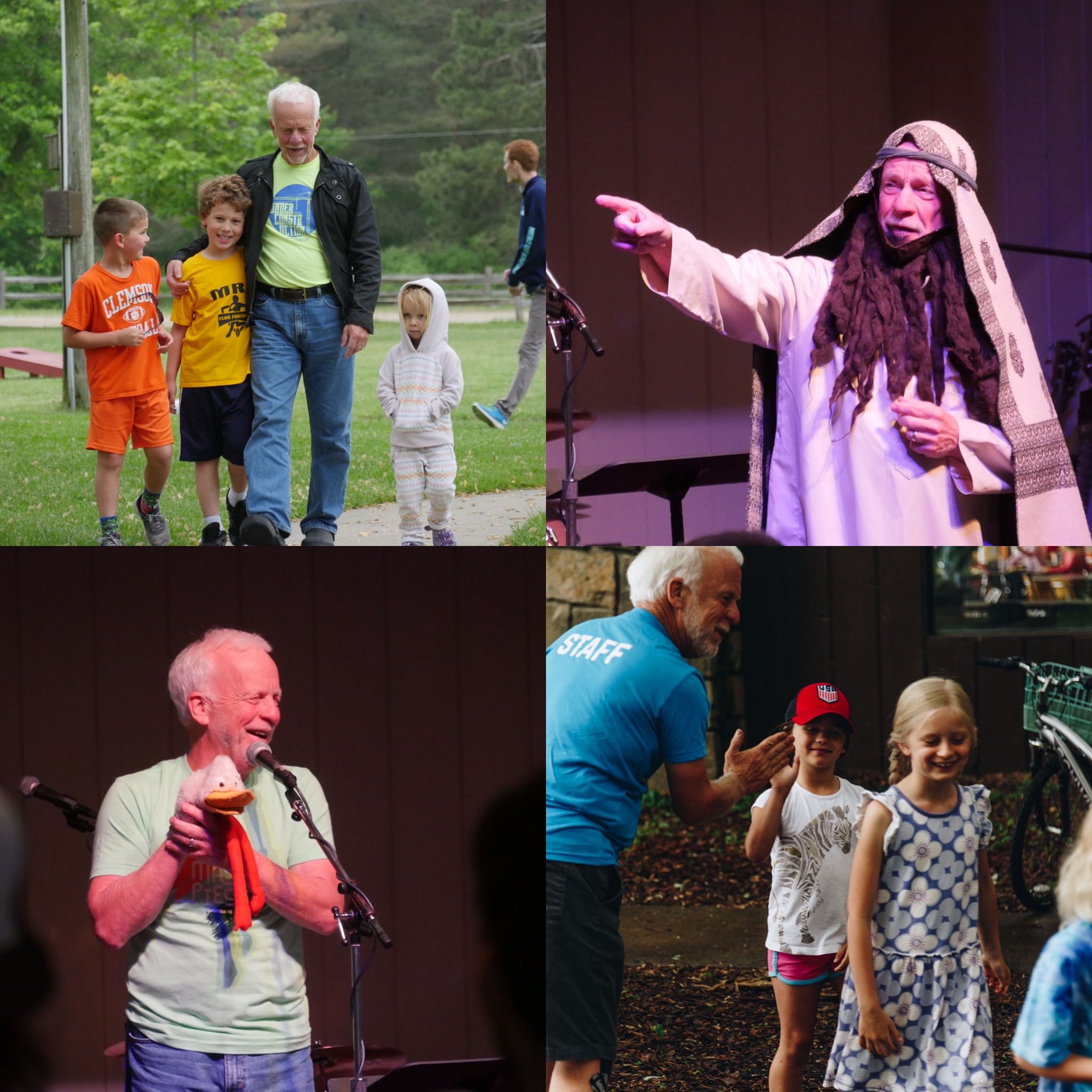 Within the Portage Lake Bible Camp community, when we think of those who carry the life of Jesus in their bodies, at the top of that list is Jerry Jacoby. To hear on Wednesday morning that Jerry had died of a sudden heart attack was beyond shocking. Jerry was a former staffer, Program Director, Summer Manager, a Trailblazer & Pathfinder speaker for decades, and foundational to everything we know about camp. To us, Jerry was the picture of life and particularly a life well-lived. He exuded life in himself, and he gave life to thousands of others as he carried Jesus through his music, his speaking, his whimsy, his encouragement, and even his puppets to children, adults, and anyone with whom he came into contact. In a dark world, he was a light helping others to step out of the shade and into a glorious relationship with Jesus.
Many have expressed already in posts on social media and stories over the phone of how Jerry touched them. Whether it was a special moment of encouragement, a prayer to receive Christ at the front of the chapel, listening to a soliloquy dressed up as Moses or being introduced to Elmer the duck, watching him up front signing Heaven Came Down, Holy, Holy, Holy or even Ruby Tooby Tango, simply having 'Uncle Jerry' remember your name year after year, or a friendship started on camp staff that lasted decades, being with Jerry felt like being home. In that way, his gentle warmth, his quirky, ridiculous humor, his passionate expressions of faith, and his love of the Lord were things that always drew us back to camp and to the heart of God. This is part of the reason why it's so hard to fathom that Jerry's light has gone out – with all his life, we thought he'd always be here.
"But we have this treasure in jars of clay to show that the surpassing power belongs to God and not to us." If Jerry taught us anything it's that life is about God, camp is about God, everything is about God. And while we are "afflicted" with grief, we are "not crushed." Though we're "perplexed" at the timing and manner of his death, we are "not driven to despair." While Jerry's death is a profound sadness, we are not without hope. In fact, because of the death and resurrection of Jesus we can rejoice, in the midst of grief, over Jerry's homecoming. As someone in our camp community put it, "We all think camp is like heaven, so it's got to be unfathomably awesome at whatever eternal cabin God has prepared for Jerry."
Michaela, Caitlin, and Brennan, your camp family is praying for you, your spouses and your children! Thank you for sharing Jerry with us. His love of you inspired us; his love of Jesus transformed us.
As part of our PLCBC 75th Anniversary celebration over Labor Day weekend we will also be celebrating Jerry's life and the part he played in making camp such a special place. Feel free to send memories of Jerry to camp via email at info@portagelake.org.