The Fun Never Stops
Portage Lake in the summertime is just about as good as it gets. The sun is shining, the lake is warm, and camp is flooded with campers of all ages week after week. It is SO much fun to have this place filled up time and time again, and we are so thankful that the Lord continues to bless this place with the people he sends here. Summer is definitely a busy, fun, crazy time, but PLCBC actually has more campers on site throughout the "Retreat Season" as it does in the summer! It's crazy to think, but just about every weekend groups and campers from all over the state (and beyond) get to experience Portage Lake and all it has to offer. We have already had college cross country camps, a family reunion, quilters, men's and women's retreats, and lots of other groups come to camp this fall, and there are many more to come! To see the things coming up on the camp calendar, check out some of our upcoming happenings, on site and off! Hopefully we will see you there!
1. Fall Work ReTREAT/Camp-or-Treat
This retreat, happening on October 21-23, is an awesome, FREE weekend where you can come up (with friends and family!) and help us prepare the grounds for the upcoming fall and winter seasons of ministry. There are lots of leaves to be raked, a dock to be taken out, and lots more to do! There will be work for all ages and abilities to join us! On Sunday afternoon following the retreat, we will have our first ever Camp-or-Treat where children can dress up in their Halloween costumes and trick-or-treat around camp! Camp-or-Treat will begin with a Sunday worship service, lunch, and trick-or-treating will follow in the afternoon. This event is open to all who wish to come! 
2. Fall Trailblazer Retreat
The Trailblazer Retreat is the best chance for your Trailblazers to experience PLCBC outside of summer! There will be plenty of games, activities (including crazy science experiments), and so much more! The theme is "Imagine This," where the kiddos will learn all about the amazing plans God has for them. Register your camper through your local church! There is also individual registrations available. We can't wait for Trailblazers to get back to camp this fall!
3. The Inaugural Portage Lake Gala
The first ever Gala is a great way to support the ministry of Portage Lake Covenant Bible Camp at a fun, classy, campy event! Hosted at the Sunnybrook Country Club in Grandville, MI, the Gala will help raise funds so that Portage Lake can continue to impact every life for Jesus Christ. There will be amazing auction items, music from Jerry & Michaella Jacoby, green dragon for dessert, and lots more! Tickets are still available but seating is limited to call (231) 889-5911 and reserve your spots!
4. Junior High Retreat
Happening November 18-20, the Jr. High Retreat is bound to be one of the highlights of fall! The theme is Lit and we are going to learn all about being a light for Jesus Christ in everything we do. The games will be amazing, chapel (with the summer band) will feel just like summer, and the whole weekend is gonna be #lit! If your church is coming to the retreat, register through them! If not, you can still register by downloading a form on the web page for the retreat.
5. Sleighbell Family Weekend
Does it get any better than Christmas at camp?? On December 2-4, come kick off the Christmas season by staying at camp! There will be plenty of Christmassy activities, including decorating a tree, gingerbread house decorating, and a sing-a-long with the one and only Jerry Jacoby! All throughout the weekend there will be events happening in downtown Manistee during the annual Victorian Sleighbell Festival, including the Sleighbell parade Saturday night! Start a new tradition by joining us! Registration will be available soon!
6. Church Visits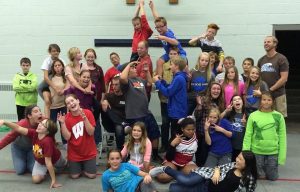 We LOVE coming to visit you and your church to connect, meet, and share with all of you this things going on at PLCBC! We are currently on the road visiting youth groups to tell them all about our upcoming youth retreats, and we will be back in the winter in spring to as many churches as we can to tell you all about summer 2017! We are blessed by an incredible community of churches that love and support camp, and we can't wait to come see you soon! Check out our social media pages to see when we will be at your church (or a church near you) soon!
6. SUMMER 2017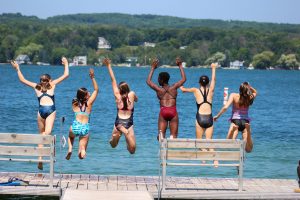 Believe it or not, we are already planning and getting excited and ready for summer! The theme is set and will be revealed in the next week, and registration and is scheduled to open November 1st! The promo video will also come out on registration day. And be on the lookout for new brochures that you can use to register or invite a friend to camp! Once registration is up and running we will be hitting the road and visiting churches all over the state to share with everyone how awesome summer is at Portage Lake. Get excited for another amazing summer at PLCBC! We can't wait!
As you can see, the fun never stops at PLCBC! There is plenty going on for all ages, so we hope that you are able to either attend an upcoming event, or join us in praying for all the things God continues to do at Portage Lake. Be on the lookout this fall and winter because PLCBC might be coming to visit your church to talk about all the awesome things going on in the Portage Lake community! Thank you so much for your love and support, and hopefully we will see you this fall! Or winter. Or spring. Or summer!