Why Restaurants are Different Than My Commitment to Christ
On the way to camp Friday night for the Senior High Whiteout Retreat, my van stopped at Mancinos Pizza & Grinders for dinner. After the retreat was over, we stopped at Big Al's Pizza for lunch. I have heard that there is a raging debate over which establishment is preferred within the Portage Lake community. I know I am supposed to have an opinion on this… but I don't. Don't worry though, I am committed to the continual research of these two establishments, and I am confident that one day, I will have my preference firmly decided. And once I have confidently devoted myself to one establishment, there is no chance that you will see me in the other.
"I Have Decided to Follow Jesus"
            One of my all-time favorite lyrics from a camp song is "I have decided to follow Jesus, no turning back." It is my prayer in times of struggle. It is the greatest desire of my heart. It is my hope for freedom. When the cross is before me, there is nothing that I need behind me.
Commitment to Christ is Ironic
            The definition of commitment is "an obligation that restricts freedom." This definition is accurate in my example of restaurants. If I were to commit to a Big Al's (spoiler alert, that's where I'm leaning. The vibe there is much more comfortable & there is no random vending machine there… come on Mancino's, what's up with that!") then, my freedom to walk into Mancino's would be restricted.
However, this definition could not be more false, in terms of my commitment to Christ. It is because of my commitment to Christ that I have true freedom. Now, when I say the word "freedom", I do not mean that I can do whatever I want. On the contrary, my commitment to Christ as my Lord, gives Him control of my life.
The blessings is that I have found so much more freedom now that Christ is in control of my life, then when I was in control of it. I am not worried about being cool or getting by on my own strength, because all I need to focus on is the fact that "I have decided to follow Jesus" and there is no turning back. And it is in that place of "no turning back" where I have found freedom.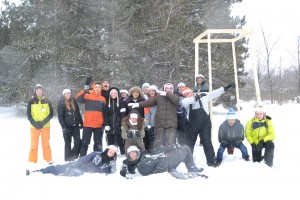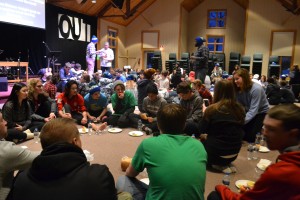 2 Timothy 4:7
            "I have fought the good fight, I have finished the race, I have kept the faith."  This is the prayer for my life- that I would keep fighting the good fight, and stay strong in my commitment to Christ in everything I do. This is my prayer for all the students who were at Whiteout this month; I pray that you all will keep running the race, so that you can keep the faith. Because it is when, we keep the faith and stay committed that we find true freedom in our lives through Jesus Christ.
– Joel Brand, Sr. High Whiteout Speaker